Help maximise the strength and resilience of your musculoskeletal tissues, such as tendon, ligaments, and cartilage, and stimulate bone formation and strength with CollagenX pure hydrolysed collagen. The result can be improved joint function and more flexible tissue that is more resistant to stress-induced joint discomfort. CollagenX can help prevent cartilage degradation, improve joint function, and reduce joint pain and inflammation.
Collagen peptides are the body's own building blocks for cartilage, and ideal for those who frequently engage in repetitive sports such as athletics, cycling, netball, basketball, body building, or contact sports, in fact, any athlete (or weekend warrior) involved in mechanical stress on joint cartilage.
Connective tissue of skin, bones, teeth, tendons, and ligaments mostly contain Type 1 collagen, so our marine collagens (either Fish or Wild Caught) are best as they are 100% Type 1. Some studies have shown Bovine collagen to work well in this area too.
CollagenX Features
The efficacy of our collagen peptides in supporting joint health is supported by an extensive body of scientific studies
Excellent digestibility + efficient absorption = High bioavailability
Suitable for professional athletes to health-conscious individuals
100% pure, Clean Label, safe and free from preservatives or additives
Fully Traceable
Prepared using enzymatic hydrolysis not chemical hydrolysis
CollagenX contains 18 amino acids, the building blocks of our tissues
Glycine and proline concentration is 10 to 20 times higher than in other protein powders giving CollagenX it's unique health impact
CollagenX is soluble in cold and warm liquids – it won't go lumpy and is easily added to your favourite foods and beverages
CollagenX is safe, neutral in taste and odour
CollagenX has hundreds of 5-star customer testimonies confirming results for reduced joint pain, improved mobility, and faster sports recovery.
Our products do not contain or have not been manufactured by a process involving any of the components listed in the 2021 Prohibited List of the World Anti-Doping Code (WADA).
CollagenX Bone and Joint Research
Maintaining healthy joints
Research Undertaken: In a randomised, placebo-controlled, double-blind clinical trial(1), 94 women aged 40-70 with knee joint problems (osteoarthritis) received 8g of Peptan® hydrolysed collagen or a placebo daily for a period of 6 months.
Research Results: Hydrolysed collagen treatment resulted in a statistically significant reduction in the WOMAC score by a -22% linked to a 32% decrease in joint pain and 44% improvement of stiffness.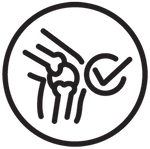 Improving joint function
Research Undertaken: The same study also sought to discover whether Peptan's Hydrolysed Collagen could improve knee joint function in the same group of women.
Research Results: The Hydrolysed Collagen treatment resulted in a statistically significant increase of the Lysholm score by 7% which demonstrates the improvements over time.
Stimulating chondrocytes (cartilage cells)
Research Undertaken: In an in vitro study(2), primary cartilage cells (chondrocytes) were cultured in the presence of different concentrations of Peptan® Hydrolysed Collagen for 8 days to demonstrate Hydrolysed Collagen ability to induce the production of the key cartilage components, aggrecan and type 2 collagen, which make up joint tissue.
Research Results: The Hydrolysed Collagen treatment clearly stimulated the expression of aggrecan and type 2 collagen by the joint cells. The absorption rate and accumulation levels of collagen hydrolysate in subjects was monitored for its uptake in the body. Results indicated that upon rapid intestinal absorption of Peptan®, subjects experienced a doubling in the quantity of the nutrient accumulated within their cartilage tissue as compared to the control group.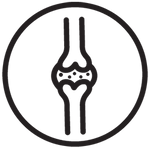 Cartilage-regenerative and anti-inflammatory effects of CollagenX
Research Undertaken: A new in vivo study(3) confirms Peptan® Hydrolysed Collagen role in supporting joint health, providing scientific documentation of the mechanisms behind cartilage degridation and joint inflammation reduction.
Research Results: Our Hydrolysed Collagen is 1) Cartilage-regenerative - it preserves cartilage area during osteoarthritis development, 2) Chondro-regenerative - it stimulates chondrocyte proliferation and stimulates proteoglycan synthesis, and 3) Anti-inflammatory - it normalises synovial thickness and reduces production of the inflammatory marker TNF.
Bone health
Research Undertaken: As documented in in vitro and in vivo studies (4,5,6,7), supplements with collagen peptides exerts bioactivity that helps bone to stay strong and healthy. Bones are living tissues which undergo continuous remodeling. Collagen provides the organic framework in bones on which minerals are deposited and also contribute to bone flexibility and strength.
Research Results: Research has shown that Peptan® collagen peptides can stimulate the endogenous production of collagen in bone tissue, triggering osteoblasts (bone formation cells) and increasing bone size and firmness.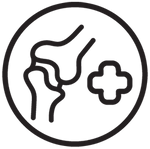 Restoring bone mineral density
Research Undertaken: In an in vivo study(7) an established model that mimics the loss of bone mass (osteopenia) in postmenopausal women (Ovx) was used to investigate the effect of Peptan® Hydrolysed Collagen supplements– the experimental group (Ovx + CollagenX) received a daily dose of our Hydrolysed Collagen for 3 months in addition to a normal diet (with adequate level of calcium, protein and Vitamin D). The Ovx and Control group received a normal diet only.
Research Results: Hydrolysed Collagen treatment restored bone mineral density (BMD) in the experimental group to the normal level. In contrast, the control group had a reduced BMD.
Improving bone strength
Research Undertaken: The same study (above) also investigated the microarchitecture and strength of the bones.
Research Results: It demonstrated that treatment with Hydrolysed Collagen increases ultimate bone strength compared to the control group.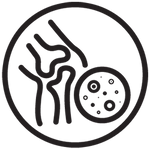 Stimulating osteoblasts (bone cells)
Research Undertaken: Peptan® Hydrolysed Collagen was compared to a control protein in the in vitro study(7). Primary bone cells were cultured in the presence of the Hydrolysed Collagen for 2 weeks.
Research Results: It was found that the Hydrolysed Collagen treatment promoted the formation of bone-forming cells (osteoblasts) and stimulated their activity. In contrast, the presence of bone-resorbing cells (osteoclasts) was suppressed. The control protein did not show the same effect.
Positive effect on bone remodeling
Research Undertaken: In the recently published in vivo study on bone metabolism(8), performed in a collaboration with INRA in France, Peptan® was shown to stimulate processes involved in forming bone mass and inhibited the formation of fully functional cells that break down bone mass. Bovine, fish, and marine collagen powders all showed comparable benefits.
Research Results: These findings clearly demonstrate that collagen peptides work on both sides of the balance – improving bone formation and reducing bone breakdown – to improve overall bone health.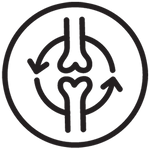 Bone and Joint Collagen Supplements